A few things that I have noticed in my first few months of living in Northern Uganda.
The Acholi are:
Resourceful
They are the most resourceful people we have ever met! DON'T throw away anything that's broken or cracked around an Acholi. Several times I have had someone ask if we were "finished" with a cracked cup or something and they take it off my hands. So no, my fellow hippies, there's not an official recycling program here… but it still happens.
The tire game….roll tire with stick and run after it.  Hours of play time.
Food Snobs
(in a good way)
Eating seasonally is (almost) a MUST. All Acholi seem to know exactly the season for each fruit and veg and hate to buy things out of season since they become too expensive and not as tasty (that's when they're shipped in from 200 miles away). All of their food is raised organically. Their meat is organic and grass fed. They have no idea how much we pay for those same standards in the USA.
The bananas on the right are totally normal sized bananas. I made a whole loaf of banana bread from 1 of the big ones.
Dancers
There is a National Dance Competition at the end of every Spring semester. Several schools have traditional dance practice in the afternoons… you can hear the drums in our house (which is fine unless its 10pm and you want to go to bed)! VERY COOL documentary about the local dances, it if you have Netflix, called "War Dance". Here's the trailer:
Alternative Transportation Experts
Transporting something is all about who you can find and balance. We have seen a woman carrying a dining table on her head, a motorcycle with a refrigerator strapped to it, our sofa and 2 chairs were wheel-barreled to our home and 3 full grown men sharing a bicycle!
These goats just finished going through a hail storm.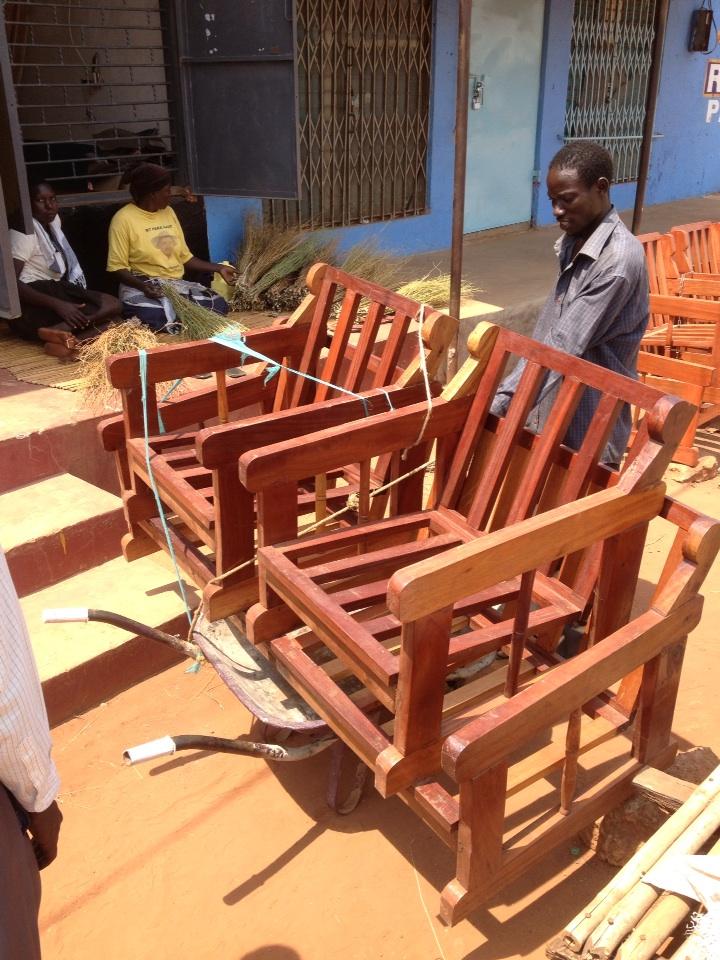 That's our newly purchased sofa and chairs on a wheel barrel.
At the end of the day, yes they are different, but they are wonderfully kind and super fun people. I'll try to write about this again before all of it seems "normal" to me.